Who are we?
Hazeldene's is the largest private employer in Bendigo, employing more than 700 locals directly as well as contracting more than 400 experts in specialised roles.
Our senior managers navigate the business through an extremely competitive environment and have the utmost commitment to employees, animal welfare and the local community.
Our Team
---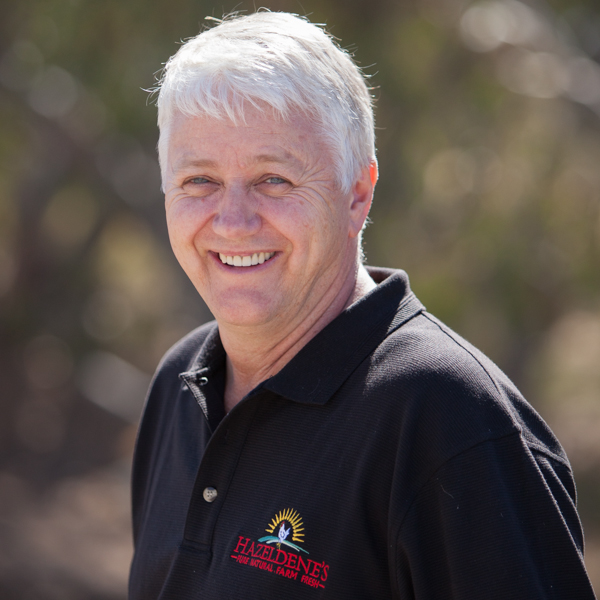 John Hazeldene,
Executive Director
Inducted into the business at birth, John's early career focused on sales, distribution and production. His leadership and intimate industry knowledge has transformed the business into one of Australia's only fully integrated regional poultry processors. Proud of his achievements, John's commitment is still firmly focused on delivering the best quality chicken Australia has to offer.

Vicki Gaudion,
Director Corporate Affairs
Also inducted into the business at birth, Vicki's early career focused on farming. She took a leave of absence to train and work as a nurse, returning to the business part time when having a family. Her later career has focused on farming and grain buying. In 2012 she was awarded Poultry Person of the Year by the Victorian Chicken Meat Council, a prestigious accolade awarded by her industry peers.

Mark Heintz,
Chief Executive Officer

Mark was appointed to his role as the Chief Executive Officer at HCF in late 2019 and has an extensive background in the leadership of large-scale businesses and holds a Masters of Management.  He has brought with him a wide knowledge of food manufacturing, strategic planning, financial management, compliance, sales, and marketing.  Mark is also a Director of Uniting Vic-Tas and when he is not working, he enjoys time with his family and has been a member of the Brunswick Cycling club for many years.
Andrew Timms,
General Manager Plant Operations
Andrew joined the team at HCF in May of 2020, as the General Manager Plant & Operations.  As a CPA Accountant, he began his career with the MARS company as a Finance Graduate and in a career spanning 18 years, moved his way through Marketing, Engineering and Continuous Improvement to Plant Management.  Andrew comes to HCF with an enthusiasm to grow teams and create processes that allow everyone to know what is expected at work and how to further their growth personally and professionally.
Ben Hogan,
General Manager Finance
Ben joined the team at HCF in 2019. Ben completed a Bachelor of Business and went on to forge a career in banking and finance, before taking on the role of a Product Line Lead for a large Agri trader and processor. Heading up the Finance team and grain procurement at Hazeldene's allows Ben to pursue his passions for both Farming and Finance.
Margaret Duncan,
Senior Human Resources Advisor

Margaret's diverse career has incorporated sales, marketing, leadership, and people management through a wide variety of industry sectors including the trade union movement, industry superannuation, banking, Local and State Government.  Finding her way to HCF after making a tree change decision, Margaret has a passion for people, and loves working in an organisation that provides employment opportunities for anyone that wants to work regardless of language, education or background.
Adam Hazeldene,
General Manager Special Projects

A third generation Hazeldene, Adam completed studies in Computer Systems Engineering with Honours before working in Europe across multiple poultry and related organisations before returning to Hazeldene's to head up everything technology based.
Michelle Daniel,
General Manager Marketing
Another third generation Hazeldene family member, Michelle has been involved with the business in varying roles and capacities since her student days. After completing tertiary studies in business and education, she worked in education and the property sector for 15 years before returning to the business to take on the role of Marketing Manager.
Tony Hill,
Sales Manager
Tony joined the Hazeldene business in 2008. He brought a wealth of experience in recruitment, sales and mechanical engineering. Leading the sales and distribution side of the business, Tony keeps the truck fleet on the road and manages sales and customer service, with a focus on metropolitan customers.
Tracey Ling,
Manager Quality Assurance
Tracey joined the Hazeldene team in 2000 as a part-time worker in the processing area. Tracey took a keen interest in Quality Assurance, studying in her own time and taking on the QA Manager Assistant role. After being mentored for 12 months, Tracey was perfectly positioned to take on the Manager's role in 2005. Tracey has been instrumental in the significant increase in retail markets. Her proudest moment was accepting the HACCP Award in 2013 for Outstanding Company – Single Site.
Daniel Mulryan,
Environmental Manager
Daniel recently joined Hazeldene's after moving from Ireland with his Australian wife and their three boys. Daniel has a Master's Degree in Environmental Management and spent many years working for Ireland's largest dairy company as an EHS manager. Daniel brings his passion for the environment and his love of life to this demanding and challenging role.